Joined

Oct 5, 2015
Messages

743
Reaction score

192
Location
Guys,
I been thinkin' I have 2 of these Ramchargers from the "Gone Fishing" set from Revell, WELL its about time I dig one of 2 out and get to making it... my Family Members vehicles come first if I have more then one, SO, without going into a long winded message, I got to thinkin' of riding in Paps Ramcharger last night, and dug the thing out (I haven't done ANYTHING to it since I got it, BUT pulling parts for the engine, and removing the factory parts that the engine had within the kit, is a start....
Now a little history, I rode in this truck, quite a bit when I was younger! He had this truck up to I THINK it was 1994, or 1995, He had it, with a car, a '76 Chevy Caprice Classic. He didn't have the Chevy that long, Bought the truck new off the show room floor in '79! Was his LAST "new" car he ever bought! The Chevy, however was the replacement to the old '71 Dodge Demon he had before it, My Dad I believe was the felon who "wrecked" the '71 Demon..... GRRRR Was using/borrowing it when his car was broke down and had to go to work in bad weather, slide off the road and totaled the car.....
ANYWAY, back to the Ramcharger, I began by thinkin' of the talks with family members a cousin, and one uncle (I recently lost the uncle) but our last talks was about a LOT of family vehicles.... This Ramcharger came up, It had a Big Block in it, Both my Uncle, and my Cousin seem to think it was a 400 B block. The cousin, worked on it in its last time in the family (I'm unsure of where it is now) -They sold it, when Pap passed away a few months later. BUT my Cousin, another grandchild of Paps was the last to change the oil in it, and do routine maintenance for Pap, SO talking with him, he said the Ramcharger had a 400 in it.... Granted, this "400" would have been a special order for that truck, and he told me that Pap did in deed special order the thing, so.... I have to believe this!
So, now to the model, It comes with a VERY needy engine, the heads and valve covers as well as intake look GREAT, the block? WOW... not even close, I THINK Revell was trying to make it look like a Mopar LA 318..... Just because that was the most common engine for these. BUT the oil filter isn't positioned right, NOR is the oil pan correct for a Mopar LA 318. SO, I pulled these out of the kit, and stashed them in my spare parts bins! (The valve covers? They're REAL close & nicely shaped for a Mopar LA small block!) I may end up molding these as well as the heads when I'm making molds again!
SO, I got to looking at my parts supply for something big block, to be that "400".... I have all sorts of NEW Mopar Big Blocks, but I also have a TON of old, glue bomb blocks too, that are in good shape and usable. So I thought why not use up some of my glue bombs to lesson the amount I have.... Save the new blocks for ones that need that NEW feel to them! -Plus, thats using a model part that needs a little, but will look GREAT!
So, off to pics of this huh?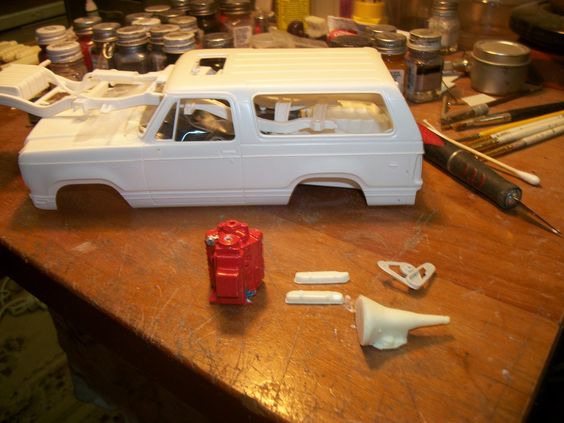 Setting in the foreground is the Ramcharger itself! In front of it sets a Mopar High-Performance Orange 440 block from a Revell Dart! ITs NOT gonna be a 440! LOL I'm gonna use it for a 400 B block! With it, you'll find that I have my OWN resin valve covers to go with the block! I took the Revell factory valve covers off the engine and stashed them with my spare parts for another build! They just don't match the contours of a 440 or ANY "true" Mopar big Block, BUT would be NICE "aftermarket" valve covers, if chromed with Alclad! SO, I stashed 'em to replace them with my own castings that are from AMT-Ertl. They made the closest Mopar Big Block "Wedge" valve covers as far as they're shape and contours go.... Which was the master copy for my resin versions.... Only difference with my resin copies is I thinned out the bolt lip of the valve cover to be closer to scale with the real thing.
Then, you'll see the pulley set up...... the kit stock parts only provide an alternator, and no power steering, Reason, I went this route is Paps HAD power steering, My cousin told me that was one of the most difficult repairs he done for Pap, he blew a power steering hose fitting, , and had to replace not only that, but the whole line from the pump to the gearbox on the frame! Said with the 400 there wasn't a lot of space to do so! SO, I pulled a spare I had, from one of my "Dream Truck" build.... Thought, why not? It was left over (I used better looking detail pulleys on that truck so left its half-hearted pulley set to use else where, AND I know a way to make it look better then it does box-stock.
Then you see the transmission, a 727 Torque-flite Automatic. My Resin cast part as well, as the kit part supplied engine and transmission was a standard, with married transfer case. I'll be removing the transmission tail to put onto my resin transmission, due to the way it mounts..... A bit of work, but by now you all know how I am.... details, Details D-E-T-A-I-L-S!!!!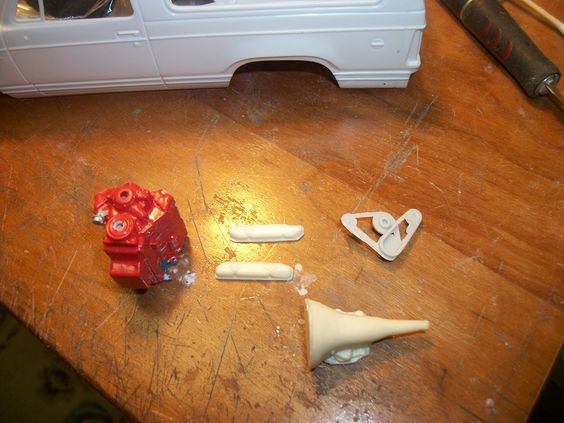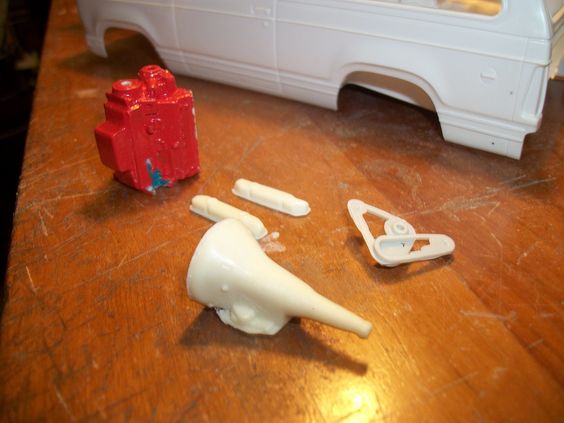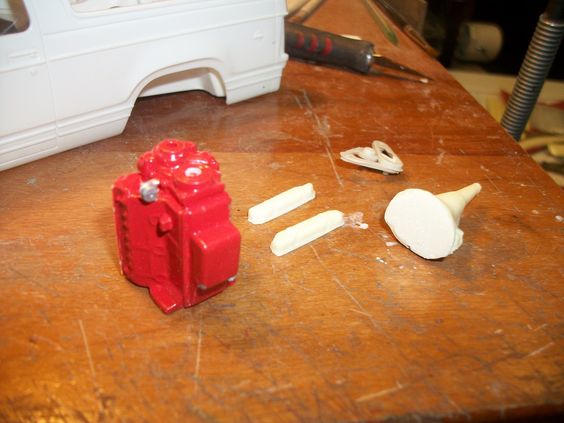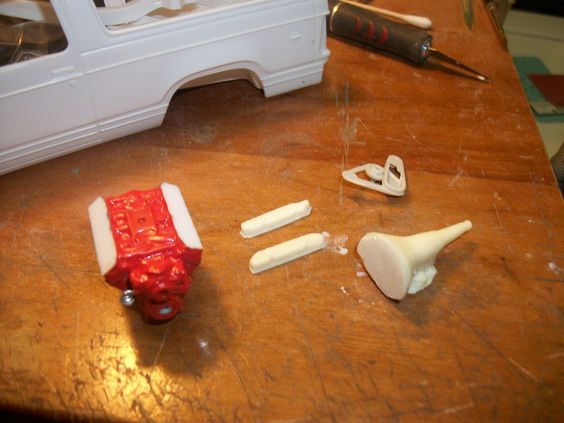 A few close-ups..... NOW as you see what I'm starting with, watch me transform it all to what you see in my other builds..... WITH the use of junk parts, and my own resin parts, to make a refection of a real auto (once again) as you sit and look.....
I'm gonna have a blast withthis one, just like I have all the rest! ENJOY!